'Tis the season for orange food. Sweet potato, pumpkin, acorn squash, butternut squash, etc. etc. But the sleeper hit for me is always delicata squash. Think of it as butternut squash's cooler little sister, mostly because it packs the same flavor, but you don't have to peel it. If you've ever peeled and cut a butternut squash, you know this is joyous news. The skin is soft and edible and packed with nutrients. Here, the flesh gets a coating of parmesan, bread crumbs, rosemary, cinnamon and butter for a warm-spicy, crispy topping. Then the whole thing gets nestled on a bed of farro with more parmesan (because why not?) and arugula. It's Italian food meets fall comfort food, and it brings the kind of happiness that just makes you want to rub your belly. No judgement. Enjoy!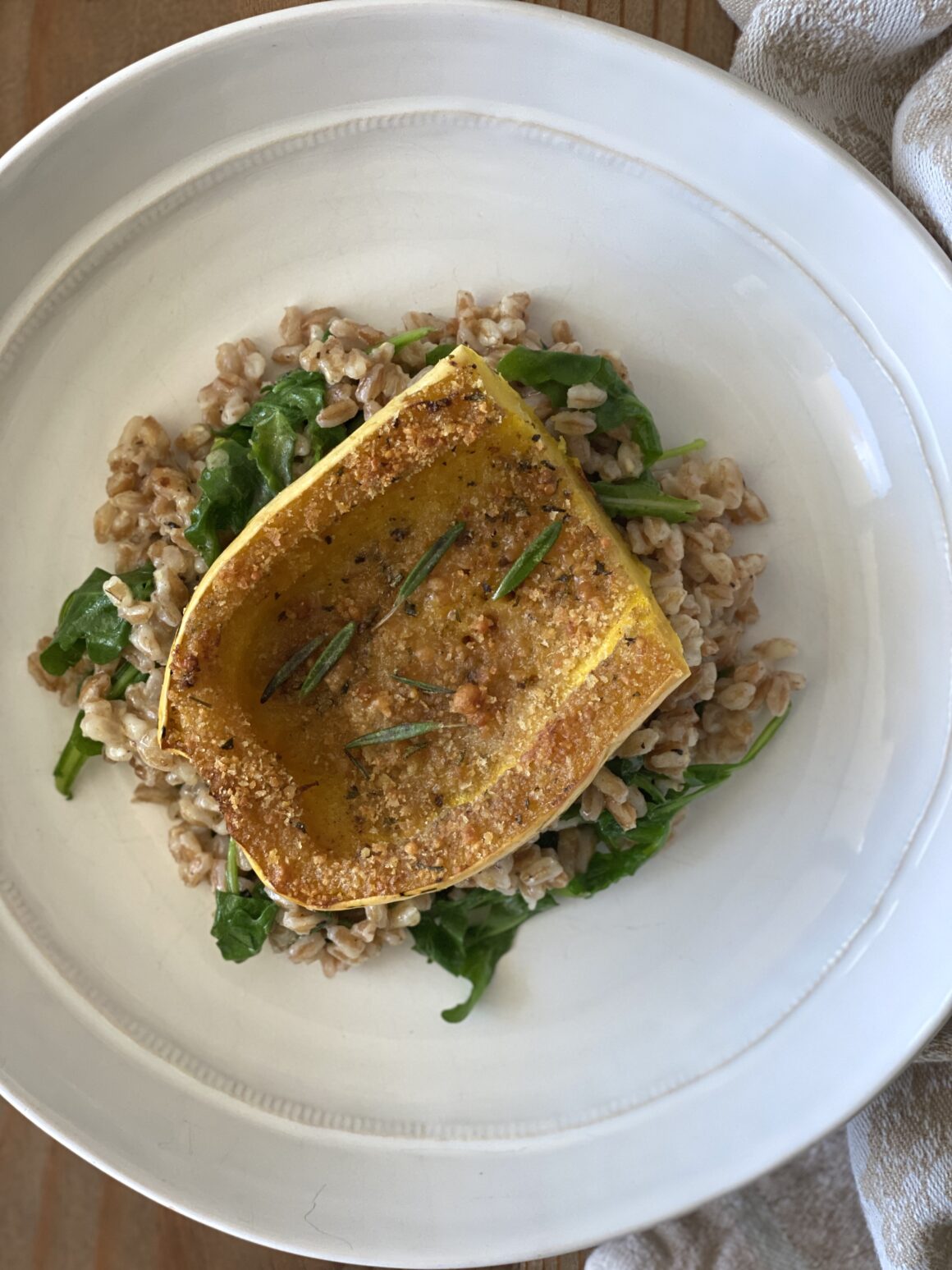 Serves 4.
Ingredients
For the squash:
1 delicata squash, halved lengthwise, seeds removed
olive oil
salt
freshly cracked black pepper
ground cinnamon
1 tablespoon bread crumbs
1 tablespoon grated parmesan cheese
1/4 teaspoon finely chopped fresh rosemary
1 tablespoon unsalted butter
For the farro:
2 cups dried semi-pearled farro
2 tablespoons olive oil
1/2 cup parmesan cheese, plus more for serving
2 tablespoons unsalted butter
salt
freshly cracked black pepper
1 large handful of arugula
good olive oil, for drizzling
Method
Preheat the oven to 350° F. Brush the squash with olive oil on all sides and season the flesh with salt, pepper and a sprinkle of cinnamon. Place cut side down on a baking sheet and cook for 15 minutes.
Meanwhile, bring a medium pot of water to a boil over high heat. Combine the bread crumbs, parmesan and rosemary in a small bowl. Toss to combine. Remove the squash from the oven, and turn it flesh side up. Sprinkle the bread crumb mixture over the top. Break the butter into tiny pieces and scatter over the bread crumbs. Return to the oven and cook on a center rack for 15 more minutes. Then, turn on the broiler at 500° and cook 5 more minutes on a higher rack to brown the topping.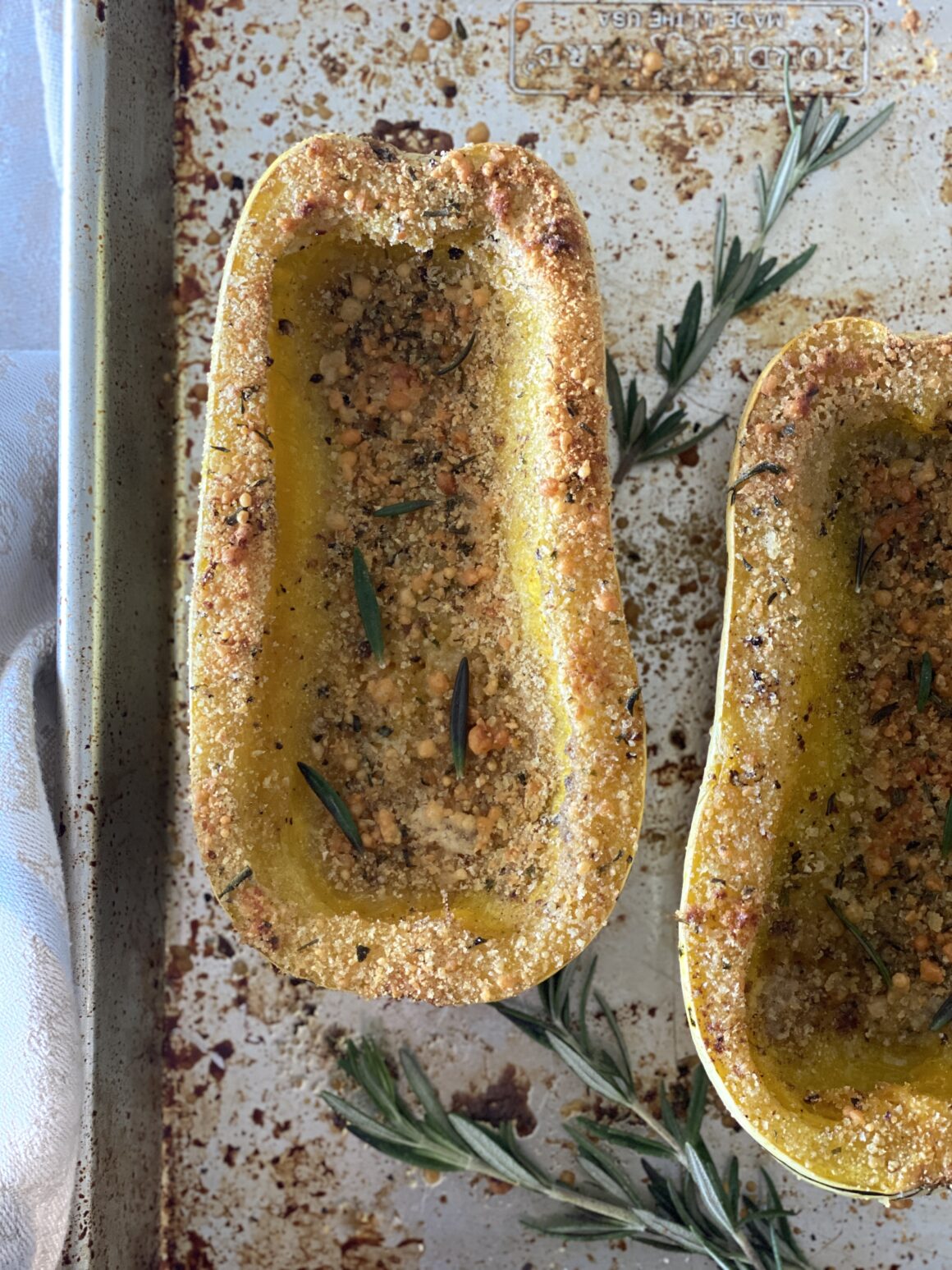 While the squash finishes cooking, add the farro and two tablespoons of olive oil to the boiling water. Cook for 10-12 minutes until al dente. Reserve about a half of a cup of the cooking water before draining. Return the farro to the pan and reduce the heat to medium. Add the butter, parmesan cheese, salt and pepper to taste and a splash of cooking water. Cook, stirring occasionally, until most of the cooking water is absorbed and the cheese has melted into a creamy sauce, about three minutes. Add the arugula and toss until wilted.
To plate, spoon the farro into bowls. Cut each piece of squash in half and set one on each plate. Drizzle some good olive oil over the top and garnish with more rosemary. Serve immediately with extra cheese!