Sometimes you need a butter break. Something light, sometimes crunchy, often citrusy to brighten things up after savory apps, between various types of casseroles or before the Christmas cookies are served. A holiday salad will almost never make the favorite list, but it is so necessary. It's the palate cleanser, the guilt-reliever, the gateway to a second serving of mashed potatoes.
Enter this Fennel & Frisée Salad— equal parts light, crunchy and citrusy, not to mention very on theme with the holiday reds and greens. Bonus: it can be made almost entirely in advance. This dish is a twist on the Shaved Fennel Salad at Altro Paradiso. (Run, don't walk.) The original includes castelvetrano olives and aged provolone cheese. Don't get me wrong— I LOVE castelvetrano olives and aged provolone cheese. But on Christmas, I might have olives in my martini and the better part of a cheese board to myself. So instead, I like to add leafy frisée lettuce, beautiful segments of blood oranges and toasted hazelnuts, for a combination that's refreshing, but still interesting. That said, shaved parmesan, pecorino or aged provolone would all make excellent accompaniments. 'Tis the season for cheese, friends.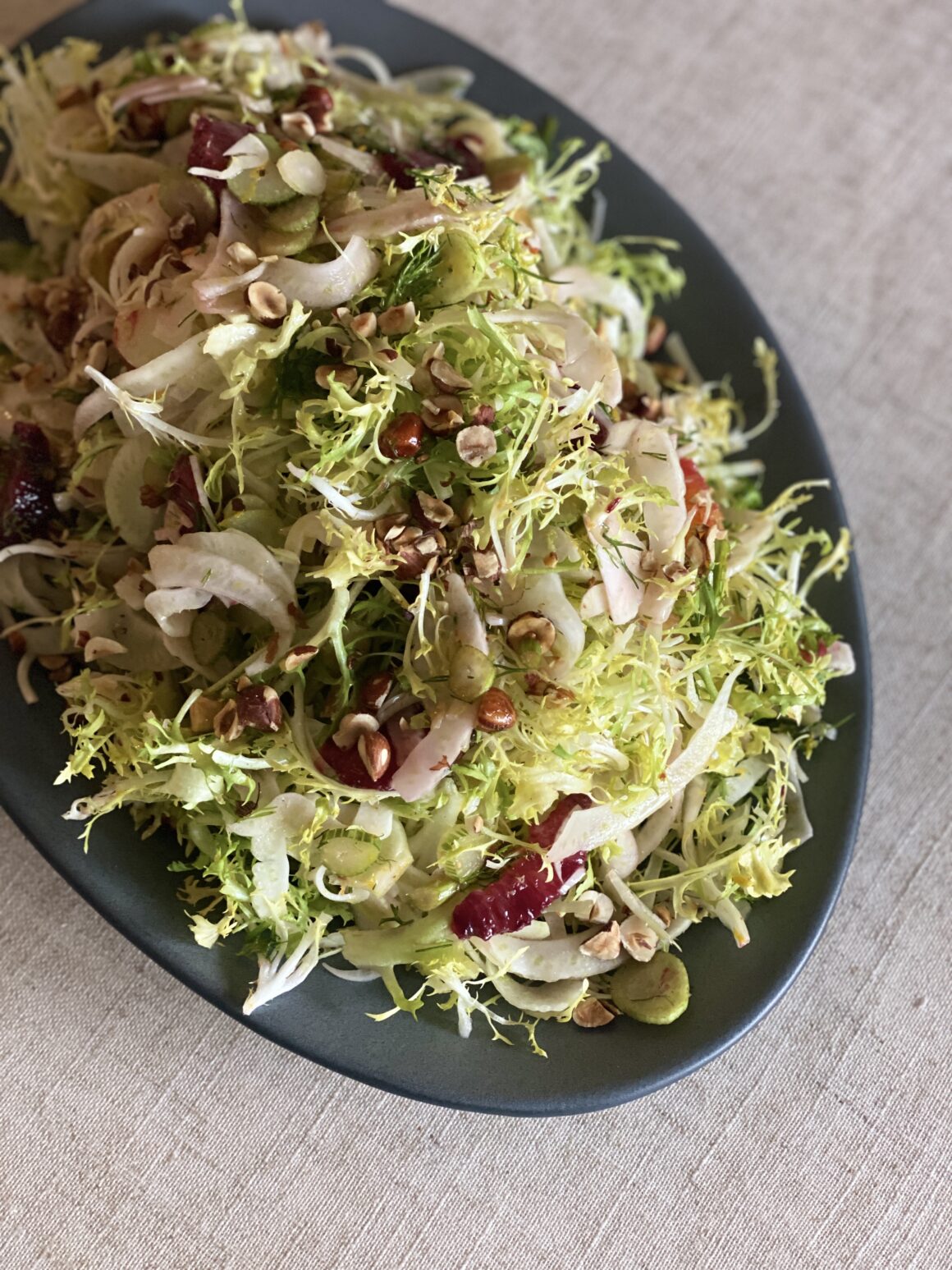 Ingredients
½ cup hazelnuts, chopped
2 large fennel bulbs
¼ cup olive oil
2 tablespoons white wine vinegar
1 orange
2 blood oranges oranges, segmented
A pinch of crushed red pepper flakes
1 lemon
2 heads frisée lettuce
Kosher salt, freshly ground black pepper
Method
In a medium sauté pan, toast the chopped hazelnuts over medium heat until fragrant and golden brown, about five minutes. Set aside.
Prepare the fennel. Remove any tough outer leaves, separate the stems from the bulbs and the fronds from the stems. Thinly slice the stems crosswise into discs and place in a medium bowl. Coarsely chop the fronds and add them to the bowl. Zest the regular orange over the top. Add the oil, vinegar, and red pepper; season with kosher salt and black pepper, then toss to coat.
Halve fennel bulbs lengthwise. Use a mandoline to shave crosswise (you can use a knife, but you want the slices to be no thicker than ⅛"). Transfer the fennel to a large bowl. Zest about a quarter of the lemon over the top, then halve it and add the juice. Season with salt and mix well.
Up until this point, this recipe can be made up to a day in advance.
When ready to serve, combine the two fennel mixtures in the large bowl. Tear the frisée into bite sized pieces and add it to the bowl. Add about half of the chopped hazelnuts and toss to combine. Transfer to a serving platter, scatter the remaining hazelnuts and serve immediately.