Mezze might just be my favorite way to eat. Lots of small dishes full of different flavors— some hot, some cold— served together as a meal. This is up my alley for so many reasons— 1. variety, 2. there are usually pickles, and 3. it's an excellent opportunity to use the ceramic bowls I can't stop buying.
Think Hot, charred cherry tomatoes with cold yogurt, Burrata with grilled grapes and basil, Brussels sprouts with browned butter and black garlic, Lamb and feta meatballs… There should be dips, and olives and lots of pita.
Sound good? This is a book for you.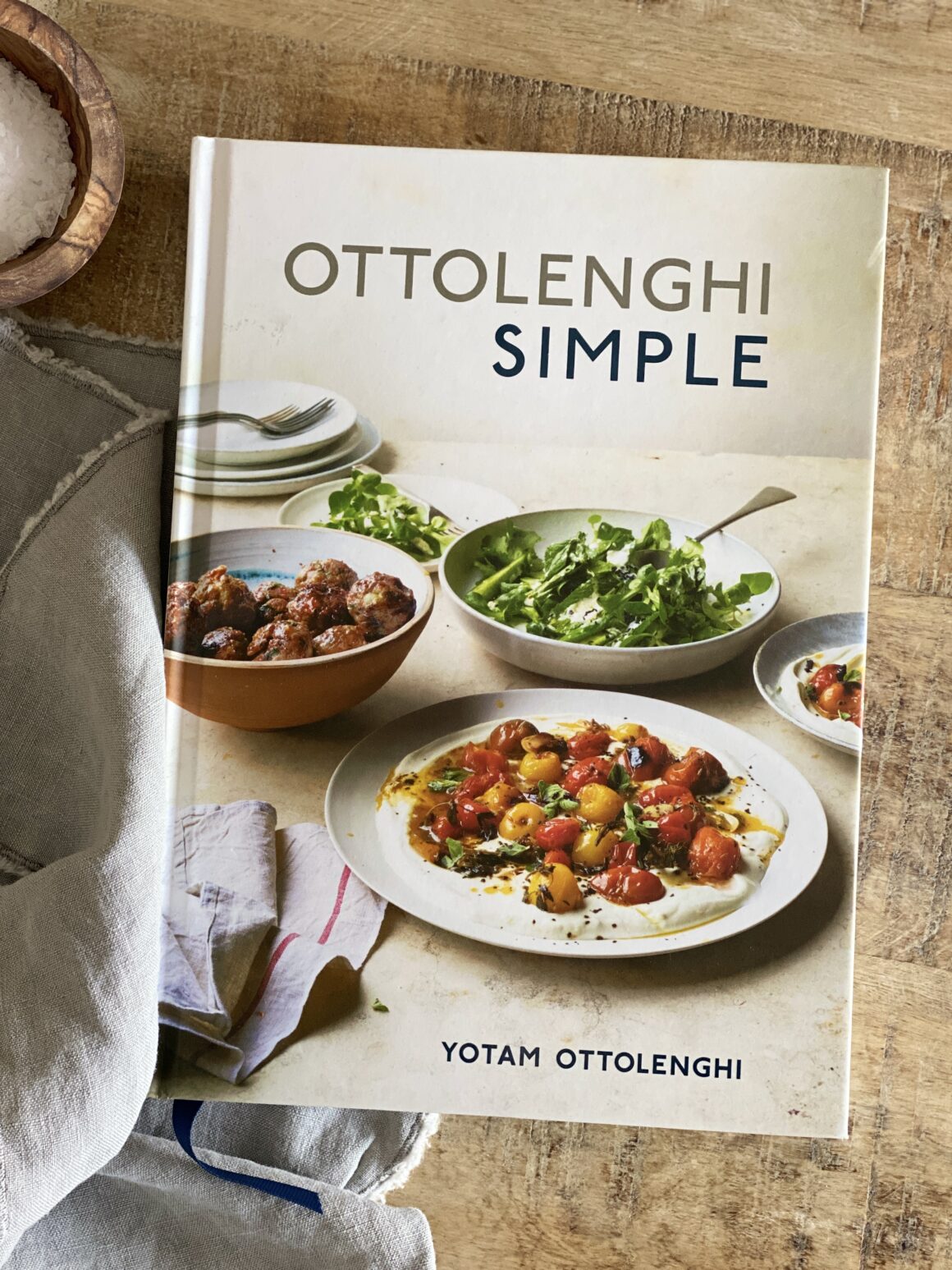 Yotam Ottolenghi is a chef, restauranteur and writer. You may recognize his name from the New York Times, to which he contributes regular recipes and mouth-watering videos. Ottolenghi Simple is a collection of equally mouth-watering recipes that truly are "simple:"
S – short on time
I – ingredients: 10 or fewer
M – make ahead
P – pantry-led
L – lazy-day dishes
E – easier than you think
Yes please.
For me, this book will become a bible for weeknight dinners (hello, Orzo with shrimp, tomato and marinated feta), fresh takes on vegetables and inspiring flavor combinations. I'm also hosting a mezze party like, tomorrow. First thing on the menu? This Roasted Whole Cauliflower with Green Tahini Sauce.
Roasted Whole Cauliflower with Green Tahini Sauce
Recipe adapted from Ottolenghi Simple by Yotam Ottolenghi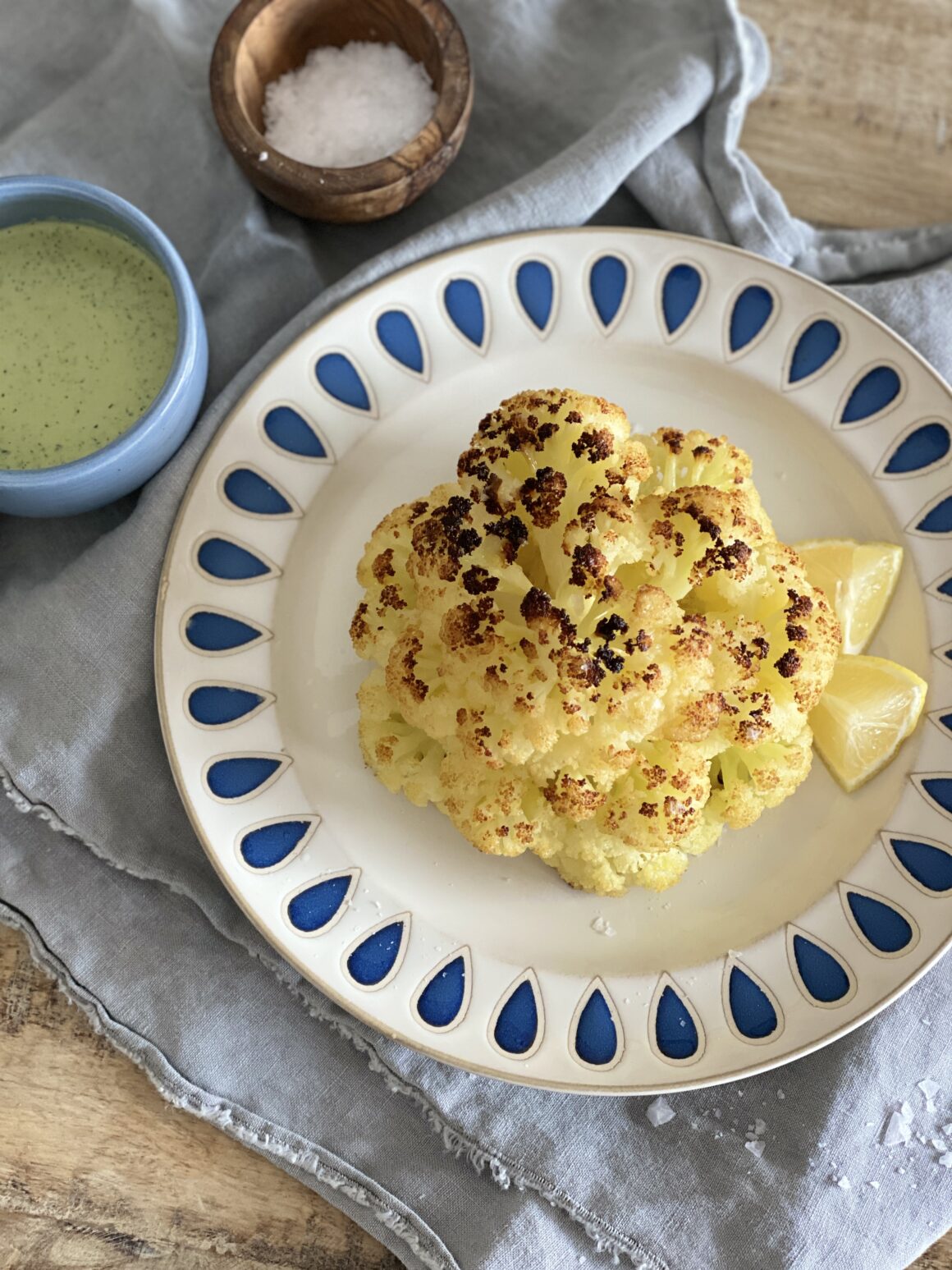 Serves 2 as a light meal or 4 as a snack.
Ingredients
1 jumbo cauliflower, with all leaves intact (2¾ lb)
3 tablespoons unsalted butter, at room temperature
2 tablespoons olive oil
rounded ¼ cup tahini
¾ cup parsley, roughly chopped
1 small garlic clove, crushed
⅓ cup water
3 tablespoons lemon juice
flaked sea salt
1 lemon, cut into wedges
pita, for serving (optional)
Method
Using a pair of scissors, lightly trim the leaves at the top of the cauliflower, so that about 2 inches of the actual cauliflower head is exposed. (Note: This step is often unnecessary with grocery store-bought cauliflower.)
Fill a pan (that is large enough to fit the cauliflower in) three-quarters full of salted water. Bring to a boil, then carefully lower in the cauliflower, exposed head down— don't worry if the base is sticking out a little. Return to a boil, cook for 6 minutes, then use a slotted spoon to transfer the cauliflower into a colander, exposed head down. Set aside for 10 minutes to drain and cool.
Preheat the oven to 375°F.
Mix together the butter and oil. Place the cauliflower on a medium baking sheet, exposed head now facing upwards, and spread the butter-oil mixture all over the cauliflower, followed by 1¼ tsp of flaked salt. Place in the oven and roast for 1½-2 hours, basting the cauliflower with the oil five or six times during cooking, until the cauliflower is really tender and dark golden brown and the leaves are crisp and charred.
Meanwhile, prepare the Green Tahini Sauce. Pour the tahini into the small bowl of a food processor along with the parsley and garlic. Blitz for about 1 minute, until the tahini is green, then pour in the water and lemon juice and season with ¼ tsp of flaked salt. Continue to blitz until you have a smooth green sauce with the consistency of heavy cream. Add a touch more tahini if it's too thin, or a splash more water if it's too thick.
Remove the cauliflower from the oven and set aside for 5 minutes, then cut into wedges (or pull it apart with your hands!). Sprinkle with salt and serve with lemon wedges, green tahini sauce and warm pita, if you like.