This one is so satisfying. Light and healthy with big flavor. Zucchini makes a great vessel for a variety of stuffings– ground meat, quinoa, sausage, bread crumbs– you name it. You could really use any squash should you want something a little more "fall" (read: orange). This filling is is a perfect balance of savory and sweet. Salty feta meets buttery pine nuts and bright lemon zest. Serve it over cous cous for a light dinner, on its own as a side dish, or sliced into pieces as an appetizer.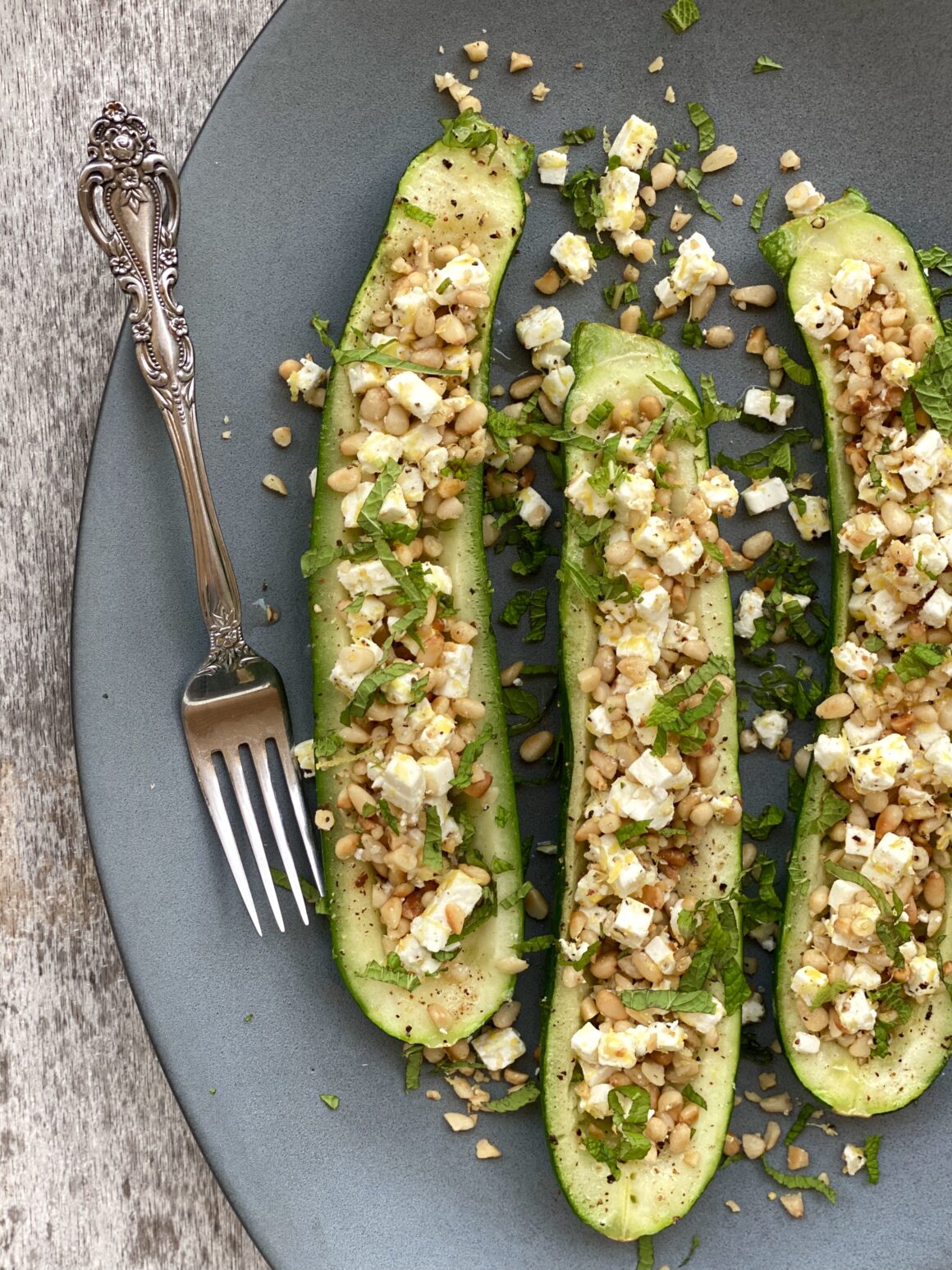 Serves 4 as a main or side.
Ingredients
2 zucchinis
olive oil
salt
freshly cracked black pepper
¼ teaspoon ground nutmeg
½ cup small dice feta
½ cup toasted pine nuts, roughly chopped
zest of 1 lemon, plus a little juice
good olive oil, for drizzling
chopped fresh mint, for garnish
Method
Preheat the oven to 400°F. Halve each zucchini lengthwise and use a spoon to remove the seeds. At the widest point of each half, remove a thin slice of flesh from the skin side so they lie flat. Brush the zucchini with olive oil on all sides, and place hollow side up on a baking sheet. Season with salt, pepper and nutmeg. Roast until fork-tender, about 10 minutes. Remove and let cool.

Meanwhile, combine the pine nuts, feta and lemon zest. Season with more pepper and set aside.

When the zucchini is cool enough to handle, stuff each piece with a quarter of the pine nut-feta mixture. Squeeze a little lemon juice and drizzle your best olive oil over the top. Finish with fresh mint and serve.