Butter, white wine and lemon. By far my favorite components for a sauce on just about anything— fish, chicken, even pasta. Butter brings a nutty taste and velvety texture while white wine adds a briny flavor and just enough acidity. Brighten things up with a little lemon, and you have a perfectly well-rounded sauce. Today, let's put it on pasta. Everyone knows sauce is better with Parmesan.
This Lemon Orzo Skillet is winter's answer to Tomato Basil Orzo— warmer, cozier and a little cheesier, if I'm being honest. Bonus: it requires only one pan and less than 30 minutes of your time.
There are a few things that make this dish a real crowd pleaser. First, toasting the orzo in butter is a game changer. This is a step not to be missed and not to be shy about. Let the orzo get some good color, and your dish will be so much more flavorful. Another flavor boost comes from cooking the pasta in chicken stock. It becomes richer and more savory. Cute cannellini beans bump up the protein and broccoli makes this a balanced dish. (It also goes really well with cheese.) That said, you could certainly add chicken, shrimp and/ or whatever other vegetables you have on hand. Consider this a comfort food roadmap. Is it dinnertime yet?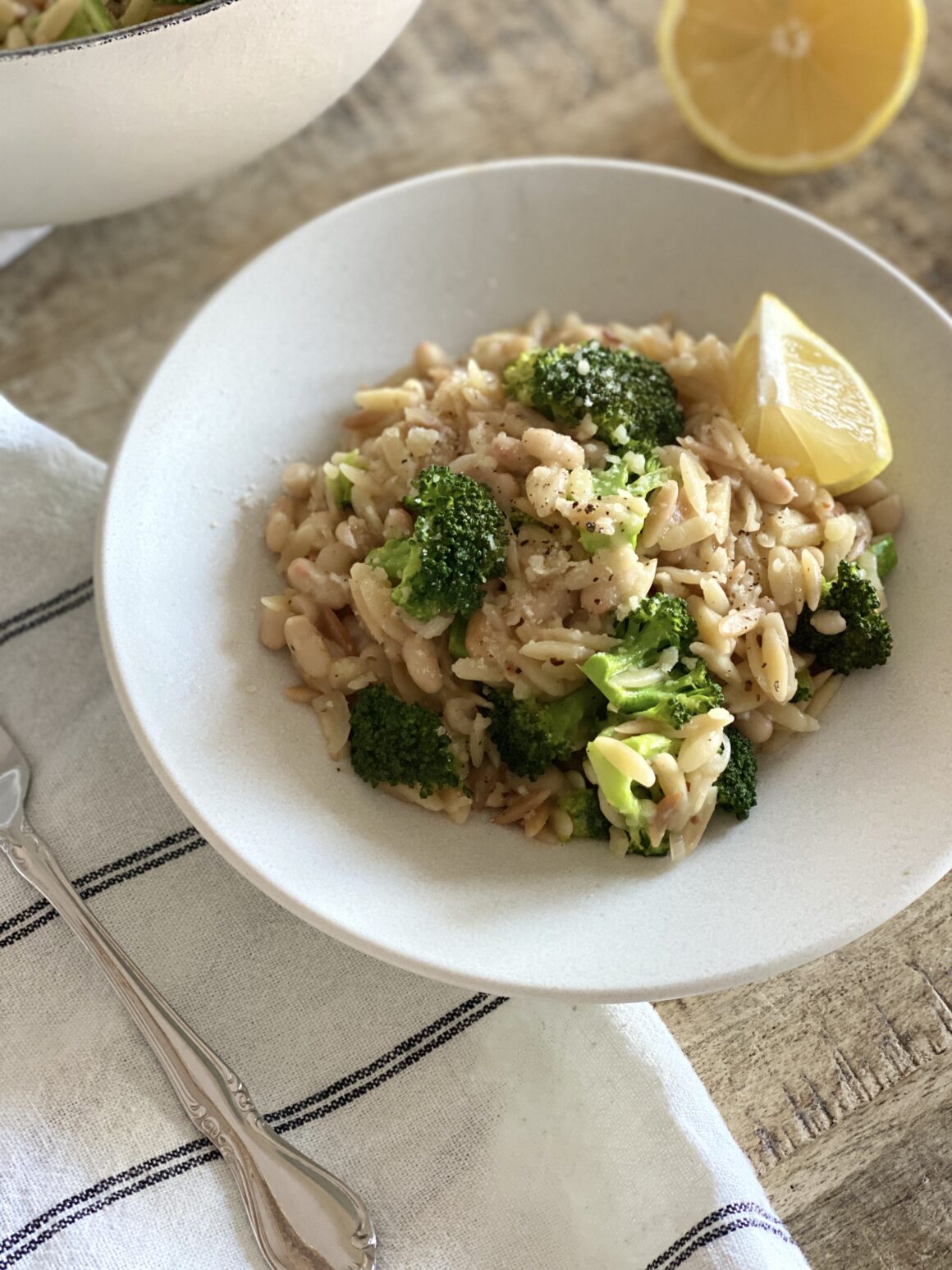 Serves 4.
Ingredients
1 tablespoon butter
olive oil (for cooking)
1 shallot, thinly sliced
2 cloves of garlic, minced
½ pound orzo
¾ cup white wine
2 cups chicken stock
1 (15-ounce) can cannellini beans
4 cups broccoli florets (this is equivalent to a 12-ounce package of florets, leggy stems trimmed and cut into bite size pieces)
¼ cup parmesan cheese, plus more for serving
1 lemon
salt
freshly cracked black pepper
good extra-virgin olive oil (for drizzling)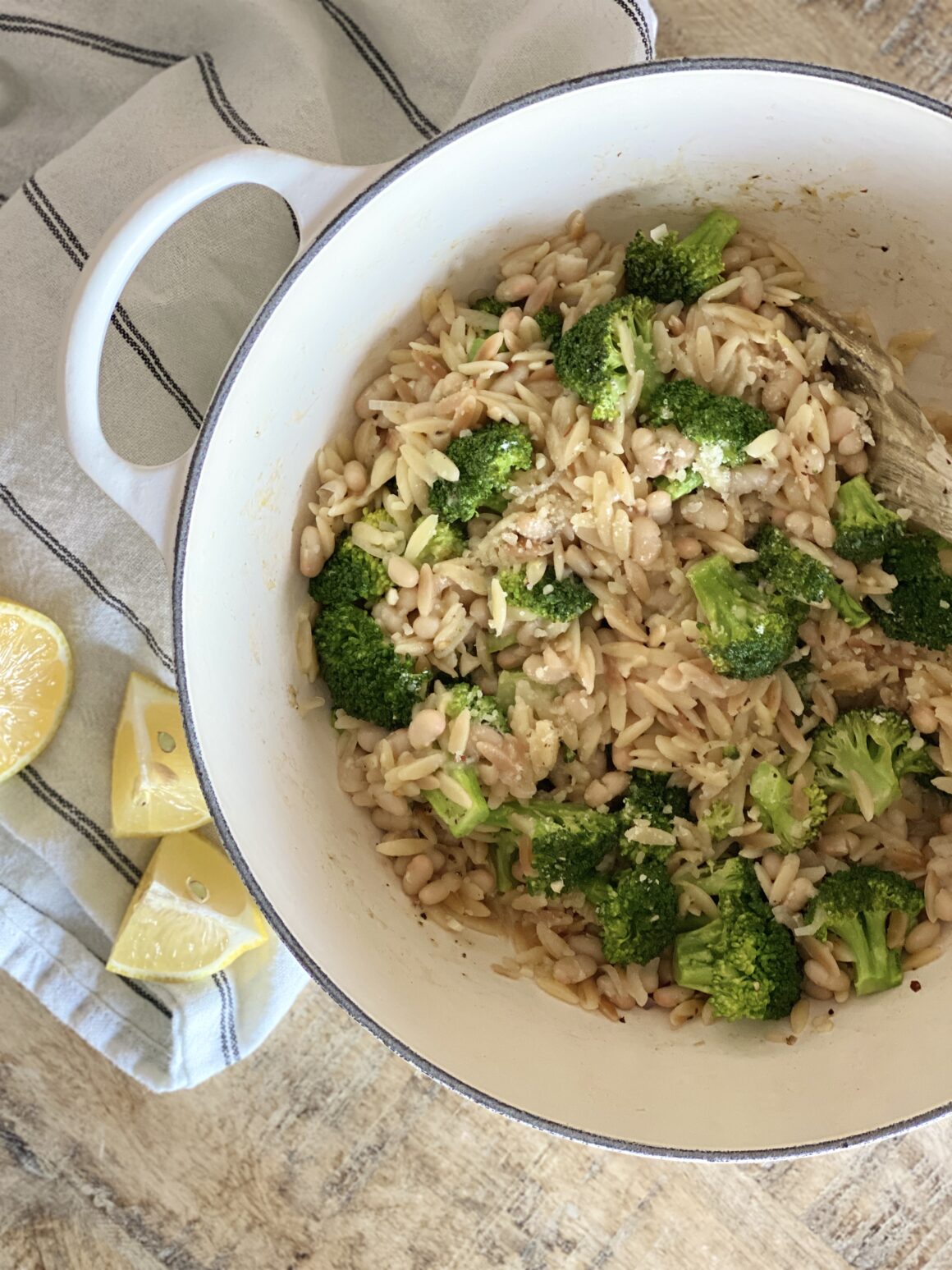 Method
In a heavy skillet or Dutch oven, preheat the butter and two tablespoons of olive oil over medium-high heat. Sauté the shallot with a pinch of salt until softened, one-two minutes. Add the garlic and cook 30 seconds more. Add the orzo and toast until golden brown, three-four minutes.
Add the white wine and reduce by half. Stir in the chicken stock and season with a pinch of salt (or more if you are using low sodium stock) and crushed red pepper to taste. Add the beans and bring the mixture to a bubble. Cover, reduce the heat to low and simmer for 15 minutes.
After 15 minutes, most of the liquid should be absorbed. Add the broccoli and replace the cover. Cook for five-seven minutes more, until the broccoli is fork-tender. Zest about half of the lemon over the pot and then cut it into wedges for serving. Stir in the parmesan cheese. Season with freshly cracked black pepper and salt if needed. Drizzle with a little bit of good extra-virgin olive oil and serve with extra parmesan cheese.