When it comes to pasta vs. sauce (yes, sometimes they compete), I always tend to favor the noodle. I go light on the sauce, heavy on the cheese, preferring to let the pasta really shine. What can I say, I am a devout carbivore.
But sometimes I crave a sauce. And by "sometimes," I mean now, in the dead of winter, as I regularly browse wearable blankets. Questionable fashion choices aside, a good red sauce warms me through and through. Rich and tomatoey, hopefully with meat. Extra points for pancetta or some equivalent pork product, though I'm not sure there is one. This is the sauce to get you through these next few chilly weeks, or at least to your spring break, whichever is sooner.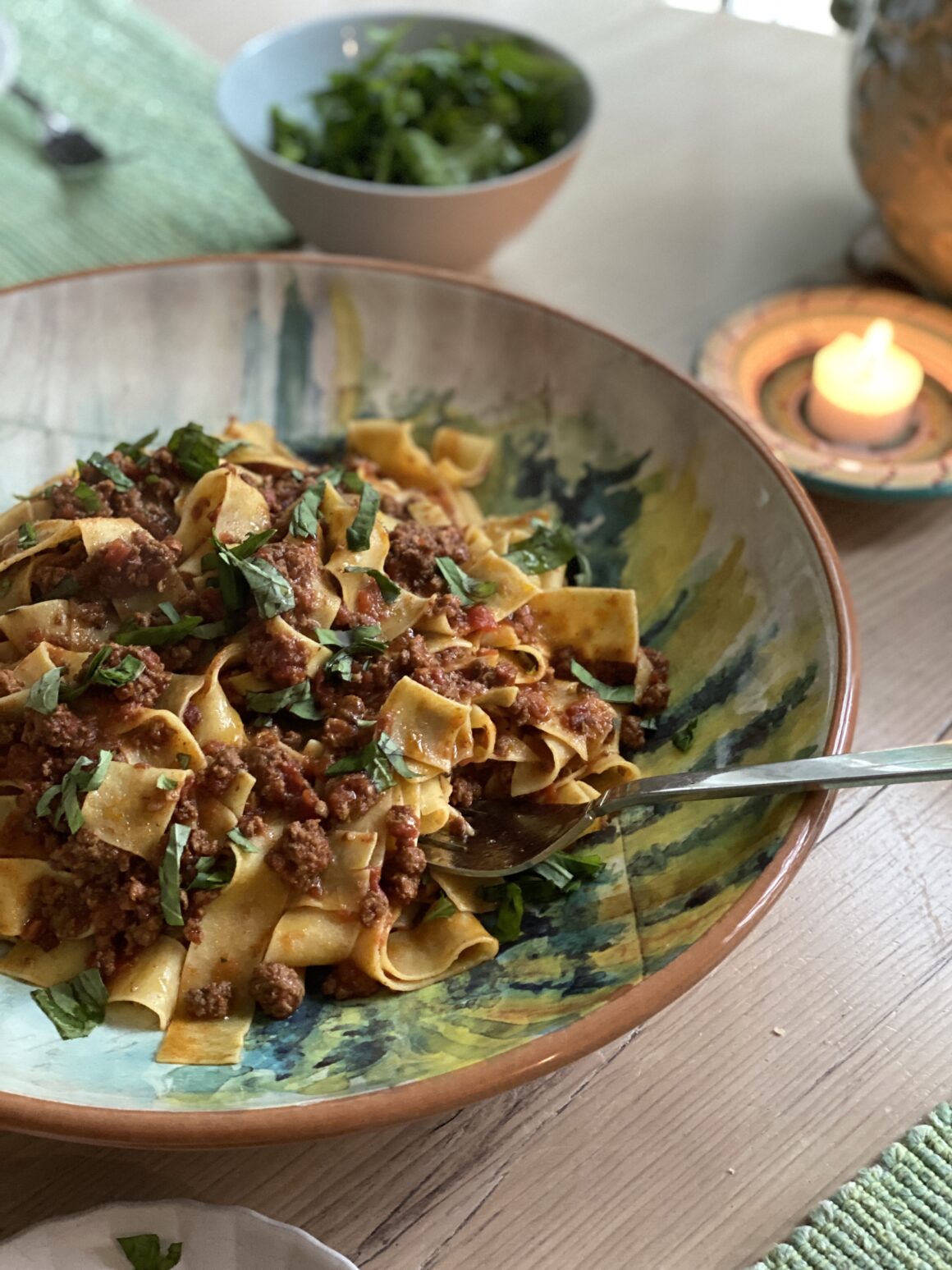 Serves 4-6
Ingredients
4 ounces chopped pancetta
1 pound ground beef
4 cloves of garlic, minced
2 cups beef stock
1 (28-ounce) can crushed San Marzano tomatoes
a pinch of crushed red pepper (optional)
1 pound pappardelle pasta
good extra-virgin olive oil, for drizzling
fresh basil (optional garnish)
parmesan cheese
kosher salt
freshly ground black pepper
Method
Preheat a large, heavy skillet over medium heat. Add the pancetta to the dry pan and brown on all sides, stirring occasionally, about five minutes. Remove the pancetta from the pan, leaving behind as much fat as you can. Generously season the ground beef with salt and pepper, and brown it in the pancetta fat, stirring to break it up as it cooks.
Once the meat has browned, stir in the garlic. Cook for an additional minute until fragrant. Add the beef stock, bring to a bubble, and then reduce the heat to low. Simmer until the stock has reduced by half. Stir in the tomatoes and crushed red pepper, if using. Cover the pot and simmer until the meat is tender and the sauce is rich and flavorful, at least two hours— I find four to be best! Taste and adjust seasonings as needed.
When the sauce is ready, bring a large pot of salty water to boil. Cook your pappardelle just shy of the package instructions for al dente pasta. At that point, transfer the pasta directly to the sauce to finish cooking. Use tongs to transfer the pasta to a serving bowl. Top with more sauce if you like, a drizzle of good olive oil and fresh basil. Serve with parmesan cheese.